CraftLife Episode 13 – No Place Like Home
As I was putting together this week's episode, I started to notice a not-so-craft-related theme emerging. Home. Not necessarily my home of today, but the familiar territory of my youth, and place where most of my family still resides. When I go there for a visit, I am "going home for a visit" – hence, this week's title.  I hope you enjoy!
Monkey Bread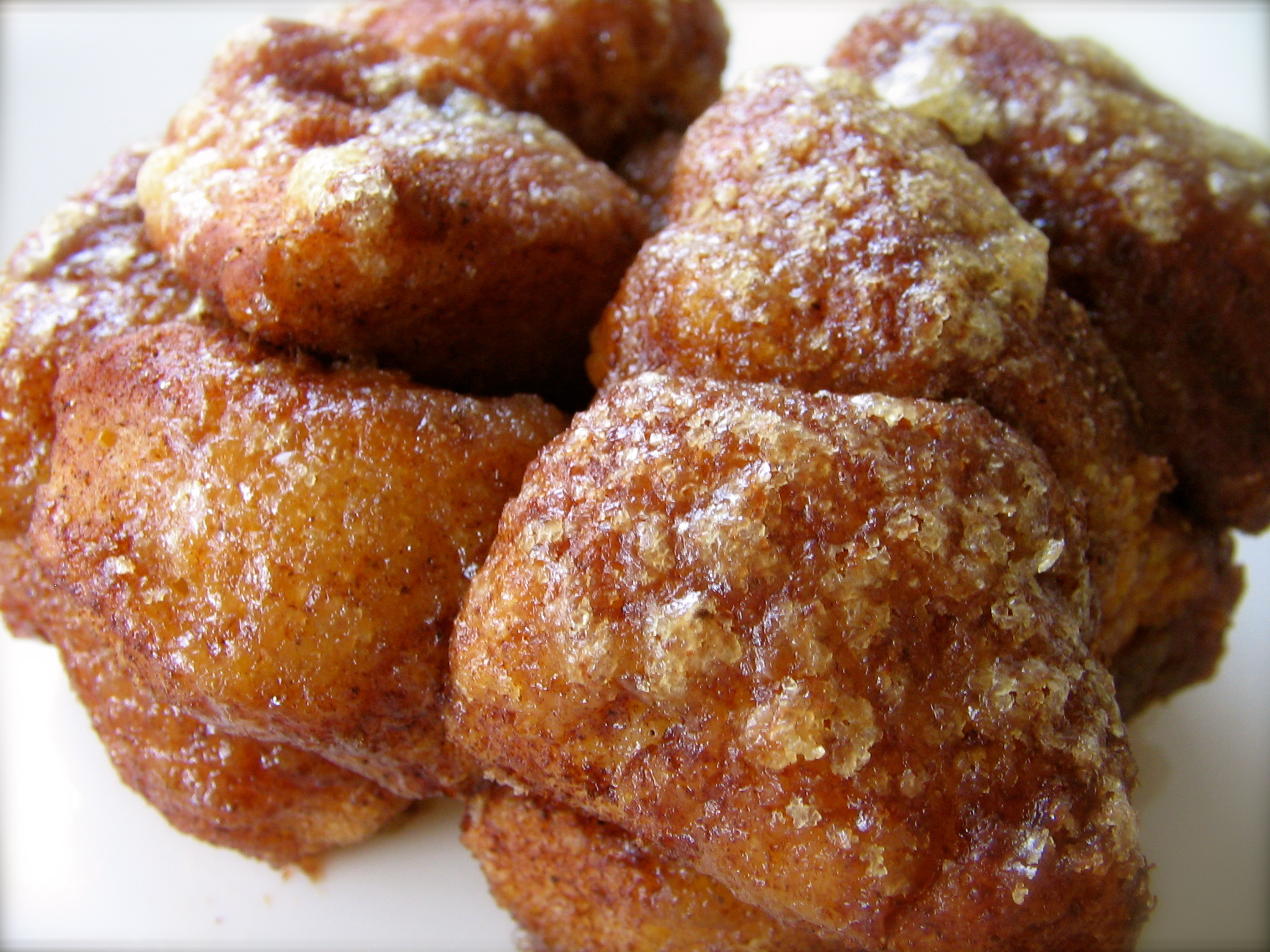 3 cans biscuits
1 cup sugar
3 Tbsp. cinnamon
1 cup light brown sugar
1 stick butter
Cut biscuits into quarters with scissors.
Shake biscuits quarters in a bag with sugar and cinnamon.
Layer cinnamon/sugar coated biscuit quarters in a greased tube pan and sprinkle chopped nuts, raisins, or both between layers if desired.
Bring butter and brown sugar to a boil, and let it boil for 1 minute
Pour butter and brown sugar mixture over the biscuits.
Bake at 325 degrees fahrenheit (163 celsius) for 35 minutes. Let it stand 10 minutes before removing from pan.
To serve, just pinch off a piece and eat with fingers.
(Recipe by Ophelia M. Leitzsey from the "Associate Reformed Presbyterian Church of Newberry, South Carolina" cookbook)
I had a great time talking to Stephanie about her artwork.  If you'd like to get in contact with her, just shoot an email to treacleandink@hotmail.com and put "STEPHANIE" in the subject line.  And, if you want to take a peek at her paintings, they will be available during the month of October in the Treacle And Ink Etsy shop.  Want to learn more about that Christmas tree farm she mentioned?  Head over to Shine and Lee's Christmas Trees.  That's my mom and dad!
Congratulations to Redsknits for winning the iMake giveaway!  If you haven't done so already, be sure to check out Martine's podcast and blog, iMake.
My Ishbel has been completed! (And with much pride, I might add.)  They say that pride comes before a fall, but I hope that is not the case since I am currently working the stockinette section of the Holden Shawlette by Mindy Wilks. And if you'd like to get a first-hand look at her inspiration, head to Myrtle Beach in South Carolina.
Got any extra fiber?  As if "extra fiber" wasn't an oxymoron.  I'm looking for something to put on my drop spindle.  The majority of my meagre stash is up for grabs, if you're looking for a trade. I'm adding more things bit-by-bit, so if you don't see anything you like, try back later.
Lyrics to this week's song (based on the song "Part of your World" from Disney's The Little Mermaid)
Part Of My Stash
Look at this stash,
Isn't it neat?
Wouldn't you think my collection's complete?
Wouldn't you think I'm the girl,
The girl who has too much yarn?
Look at this store,
Treasures untold.
How many fibers can one yarn shop hold?
Looking around here you'd think
It's got everything!
I've got acrylic yarn skeins aplenty.
I've aluminum needles galore.
(And my 10" size 5s?
Well,they're a bit bendy…)
Synthetic
Does the trick
But, I want more.
 I want a hank of Blue Moon Fiber Arts.
I want to play with a ball of Knit Picks.
Walking around, I see…
(What's that over there?)  Ooooo, Noro.
Knitting with Red Heart only gets you so far.
I'm ready to move on to something nicer.
Strolling these aisles I spy,
(What's on that shelf there?) Malabrigo!
I find Madeline Tosh,
And Debbie Bliss.
Is there anything better in the world than this?
All around me,
Wish it could be
Part of my stash.
What would I give
If I could knit
All day with cashmere?
What would I pay
To get to play
With some qiviut?
What would it take
To get to make
A project with Rowan Kidsilk Haze?
Cabled sweater
What could be better?
I'd love to find out!
I know there's a shelf of indie hand-dyed yarn
Somewhere around here,
I've got to find it.
All of this fiber calling out to me,
What can I do?
A hopeless case
In the face
Of all of this yarn-y goodness I see
All around me
Wish it could be
Part of my stash.