CraftLife Episode 23 – The Blues
It's all about the "blues" in this week's episode.  The worst case of knitting blues I've had so far was involving my yeti sweater.  This is the first sweater I've ever made, and I excitedly put it on and wore it to work this past winter on the first day that it was cold enough to do so.  At the end of the day, I looked down at my arms and realized that the yarn, which started out as Lion Brand Homespun, had turned into Ode to Chewbacca after a few washings and an attempt at a good shave.  So, Chewbacca I had been all day long, and as I returned home that night, I sadly retired the sweater to it's new place as a keepsake, rather than a keep wearing.
I've been trying out a few color apps to help me choose paint colors for the new house, and I'm really liking ColorSnap, by Sherwin Williams. Another app that I think will be particularly helpful in future craft design is Color Viewfinder, which was tweeted by CraftyPod's Sister Dianne as blogged about by Knitgrrl.
Enter the new CraftLife giveaway! All you have to do is share one of your knitting/crafting horror stories or embarrassing moments (a la the Say Anything column which used to feature in YM Magazine.) You can enter in the comments section for this post, in the "Say Anything Giveaway" thread in the CraftLife group on Ravelry, or by calling the CraftLife audio feedback line and telling me your story.  You can find that number under the "Call Me" section in the upper right hand column of this page. You have until 11:59pm, CST, on Thursday, May 31 to enter. The winner will be chosen at random and will receive two skeins of Plymouth Boku in colorway 7.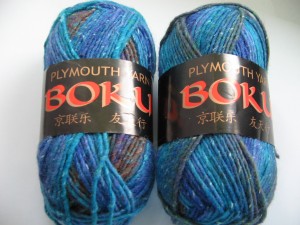 Bluebonnets are abundant in Texas in the early spring, and Burnet, Texas, is home to the best Bluebonnet Festival.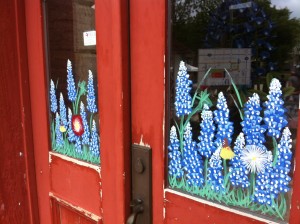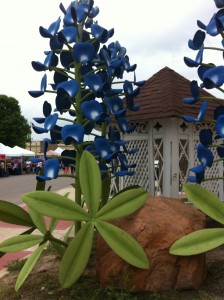 The Frederick & Anne scarf is done! Hopefully, I can get Mom to send me a modeled picture of the FO, but until then, the best I can do is a blocking pic: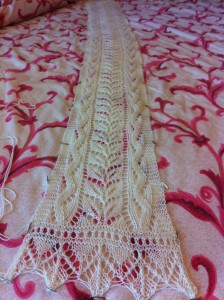 If you're interested in knitting the Layering Shrug along with other knitters, check out the Layering Shrug Knitalong thread in the iMake Ravelry Group.
What's your opinion on my most recent cast on project, Short Stays? Fabulous outer layer, or misplaced underwear? Leave me a comment below and let me know.
Since my icelandic roving drop spinning is just about done, I've made my own Lazy Kate. Hopefully, this will help me out when I go to ply my singles!