CraftLife Episode 24 – Knit Well
The next time you get a full CraftLife episode delivered to you, it will be from a new location! This time, that location will be physical instead of virtual. In the mean time, I hope to be bringing you some shorter episodes, and hopefully a new song or two. Things are swinging into full busy-mode here, but there is always time for crafting.

Will you be celebrating World Wide Knit In Public Day? Those dates are June 9-17.
Get your entries in for the Say Anything Giveaway by sharing an embarrassing knitting/crafting story in the show notes for Episode 23, the Say Anything Giveaway Ravelry thread, or get a bonus entry by sharing via the audio feedback number located in the upper right-hand column of this webpage.
Looking for some great fitness apps? Keep track of your calories with Lose It!, and survive the zombie apocalypse with Zombies, Run! You can also find out how many calories you burn while knitting at CaloriesPerHour.com.
Well, Short Stays has been frogged, but the "Fat" Baby has been cast on!… hooked on?… Hmmm.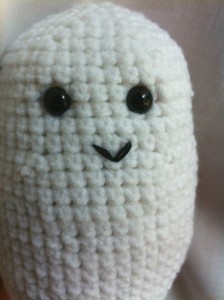 I love great garage sale finds! My most recent garage sale gem is the Better Homes and Gardens Home Canning Cookbook, where I found this tasty recipe:
Peach-Cantaloupe Conserve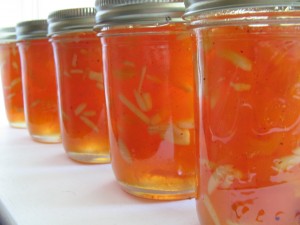 3 cups chopped peaches (about 6 peaches)

3 cups chopped cantaloupe (1 medium cantaloupe)

4 1/4 cups sugar

3 tablespoons lemon juice

1/3 cup slivered blanched almonds

1/2 teaspoon ground nutmeg

1/4 teaspoon salt

1/4 teaspoon grated orange peel
In 8-10 quart kettle or Dutch oven mix peaches and cantaloupe.  Bring mixture to full rolling boil; stir constantly.  Add sugar and lemon juice.  Bring mixture again to full rolling boil.  Boil, uncovered, 12 minutes.
Add the slivered blanched almonds, nutmeg, salt, and grated orange peel.  Boil hard, uncovered, till syrup sheets off metal spoon, 4 to 5 minutes.  Remove from heat; quickly skim off foam with metal spoon.  Pour at once into hot sterilized jars; seal.  Makes 7 half-pints.
NOTE: I only managed to get 5 1/2 half-pints out of this recipe.
And, to avoid a visit from the "Keeping Neighbors Inherently Trendy While Expunging Ludicrous Looks" group, aka K.N.I.T.W.E.L.L., refer to a copy of the latest Brooklyn Tweed Look Book when necessary.