CraftLife Episode 26 – Give and Take
Summertime is in full swing once again here in Texas. The sun is shining, the wind is blowing, it's boiling hot outside and freezing cold inside. This new house came with a sprinkler system, which is AWESOME, except that even though I run it three times a week, the grass is still somewhere between a very pale olive and the color of hay. C'est le Texas, right?
We managed to escape the Texas borders for a week at the end of June for a Las Vegas vacation, highlighted by a day-trip to the Grand Canyon.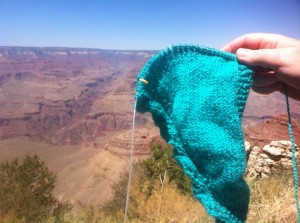 One of the other vacation highlights was the Mob Attraction at the freshly renovated Tropicana Hotel. Check out the video at the bottom of this page to get an idea about what to expect.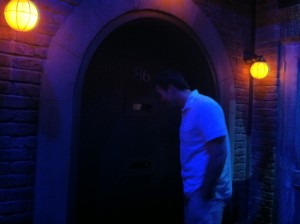 Even though the Ravelympics are no longer the Ravelympics, you can still play along in the newly-minted Ravellenic Games!
My current WIP is Saroyan, by Liz Abinante. I'm knitting it with the now discontinued Patons Jenny Cotton Style.
You are cordially invited to a Podcaster Hangout with me, Martine of iMake and Laura of Apocalyptic Diner! Be at the CraftLife YouTube channel on July 21st at 2pm CST. Check out this link to find out what time that is where you live. You can read all of the details about is in this blog post. Laura has blogged about it here, and Martine has blogged about it here.
What? You have never heard Brenda Dayne read her Knitter's Manifesto? Check out Cast On Episode 2 and remedy that now!
Looking for more info on some of the issues mentioned in this week's song?
– Design theft happens all too frequently, and the most recent incidents I've heard of affected Kate Davies and Rachael Taylor.
– For updated info on the British Woolsack project, check out Episode 52 of Yarns From The Plain.
– To read the original letter sent by the USOC to Ravelry concerning the name "Ravelympics", check out this Ravelry thread.
Lyrics to this week's song (based on the song "Blowin' In The Wind" by Bob Dylan)
The Knitters' Protest Song
How many times must this cable be knit
Before I can do it with ease?
Yes, 'n' how many rows must I put on this shawl
Before I can start to decrease?
Yes, 'n' how many knots will I find in this skein
Full of vegetable matter and debris?
The answer, my friend, is "knit like the wind."
The answer is, "knit like the wind."
How many times must I get funny looks?
Is knitting in public taboo?
Yes, 'n' how many knitters must there be 'till you know
We're not all older than 82?
Yes, 'n' how many times must I read all about
The starlets who've now "made knitting cool?"
The answer, my friend, is "knit like the wind."
The answer is, "knit like the wind."
How many times will a stolen design
Be used without giving fair pay?
Yes, 'n' how many cushions must our Brit knitters knit
Before they can give them away.
Yes, 'n' why can't the USOC be agreeable
And just let the Ravelers play?
The answer, my friend, is "knit like the wind."
The answer is, "knit like the wind."