How To – A Gingerbread Church (or House!)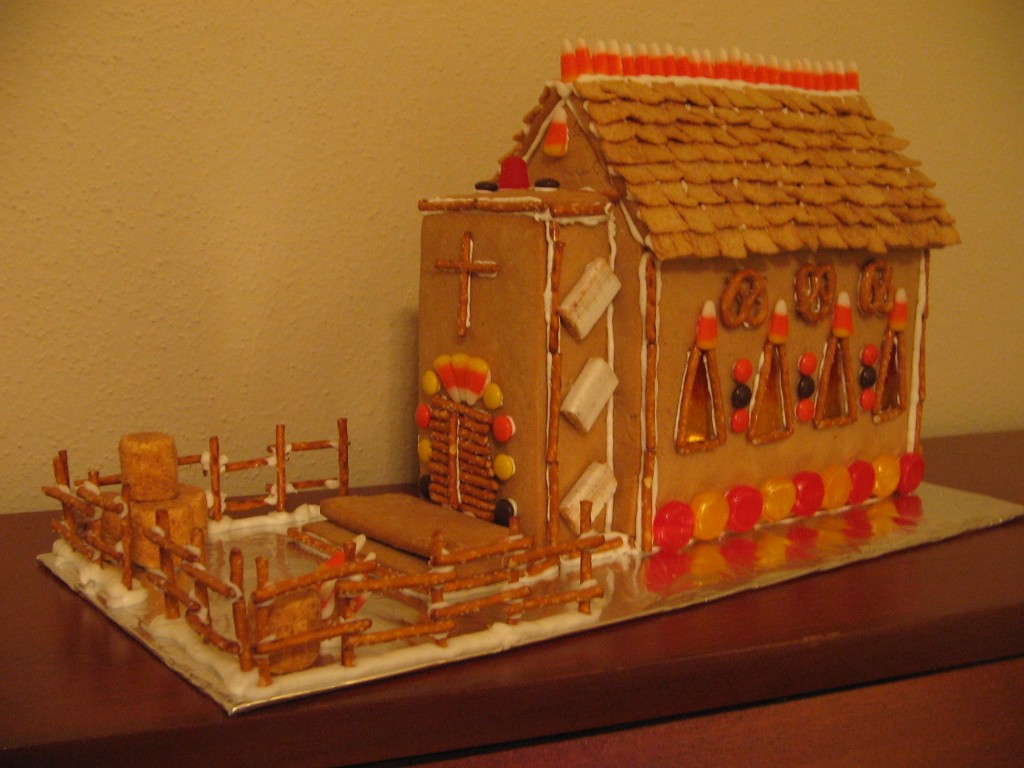 Two years ago, my hubby and I hosted the first Thanksgiving in our home.  We had some family members over, and I decided that I wanted to make a gingerbread centerpiece.  I usually don't see any gingerbread houses until people start getting ready for Christmas, but I thought the golden brown color of the gingerbread really lent itself to the Thanksgiving color scheme.  Up until that time, I had only pieced together those gingerbread house kits that you can pick up from various grocery and craft stores, but that year, I decided to start from scratch.  And, instead of a house, I went with a gingerbread church.  It was Thanksgiving after all!
Step 1
To begin with, choose a sturdy piece of cardboard on which to build your structure.  Cover it with aluminum foil.
**Optional: If you intend to illuminate your structure, cut out a hole in the base through which to insert a tea light.
Step 2
Come up with a design for your church.  If you don't want to get that creative, do a little googling.  There are tons of gingerbread house designs out there.
Step 3

Create and print templates for all of the pieces required to build your structure.  Once you have them printed, cut them out.
Step 4
Make up a batch of gingerbread cookie dough.  Roll out the dough onto parchment paper, and lay your template pieces on top.  Using a butter knife, cut out all of the pieces you will need to construct your structure.  Leave the pieces where they are on the parchment and remove the excess.   Transfer the parchment to a baking sheet, and bake your pieces.  Depending on the size of your structure, you will probably have to bake in batches.
If you don't have a gingerbread recipe already, there are plenty of them online.  I found one that was intended specifically for gingerbread construction (not edible).  It was very sturdy, and had a nice color.
**Optional:  Since this church was a centerpiece, I wanted to give it "stained glass windows" that could be illuminated from the inside with a tea light.  These were made by crushing butterscotch and cinnamon candies and sprinkling them into the window cut-outs before baking.
Step 5

Once all of your pieces have cooled completely, assemble your structure using liberal amounts of royal icing.  (Just like with the gingerbread, I found a non edible icing recipe online that is specifically for gluing together gingerbread houses.)  Begin with the walls, and once they have set, move to the roof.  Apply the icing to the inside and outside of your joints.  You may need to brace your walls while you are waiting for the icing to harden.
Step 6

Decorate!
For this particular project, I went with pretzels, Reese's Pieces, candy corn, cinnamon and butterscotch hard candies, red gumdrops, and those white crunchy peanut butter bar candies.  I stacked toasted coconut covered jumbo marshmallows in the front yard as haystacks, and used cinnamon toast crunch squares as shingles.  The fence was constructed with pretzel sticks.  As a last minute thought, I assembled a little Thanksgiving turkey with a red gumdrop body and candy corn feathers that were stabilized with a twisty pretzel.  All in all, I think it came out great!
I hope that gives you a jumping-off point to get started on your gingerbread house this year!
Just as a side note, while this gingerbread church did manage to survive until Thanksgiving, it didn't last much longer after that.  A rodent of some sort discovered it shortly after, and we awoke in the morning to find one of the back corners of the roof nibbled completely off!  I had thought of possibly spraying a few coats of clear acrylic over it to seal everything really well so that I could use it for years to come.  When I make another one, I will most definitely do that.