We really enjoy Halloween here in the CraftLife household. My husband and I were married in late October, so our housewarming party was Halloween theamed. And really, can you expect theatre geeks to NOT love dressing up as different characters?
This Halloween is extra special because it will be the Crafty Baby's first! We are dressing as a family (naturally), but since Halloween is not until tomorrow, I'm not giving away the specifics just yet. However, check out this year's pumpkins for a not-so-subtle hint as to the nature of our costumes.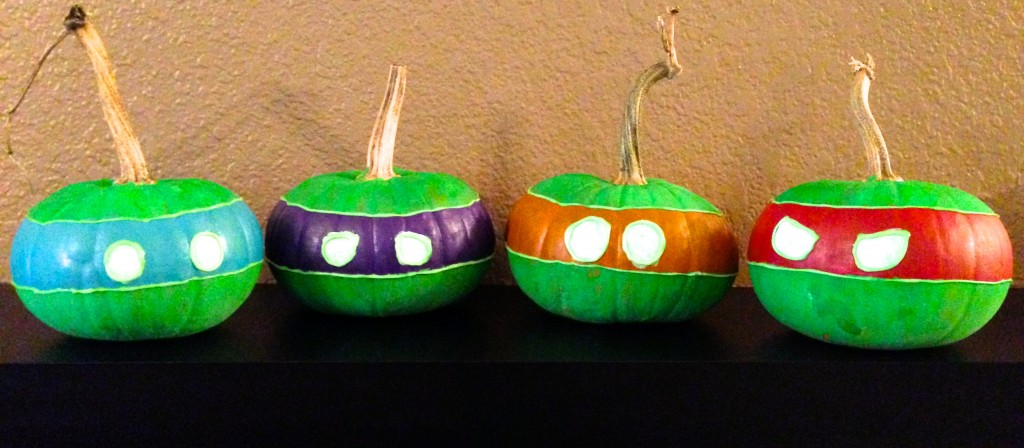 This was the first time I tried painting pumpkins, and I have learned a few lessons from my success/failure with these four.
-DON'T use cheap tempra paint. Yes, it is washable and non-toxic, but it is so washable that adding more than one coat "washes" away the coat(s) underneath. If I were to re-do these pumpkins, I would have grabbed a can of green spray paint. It would have saved so much time and looked much neater.
-DO consider glow-in-the-dark paint to light up small pumpkins! I outlined the colored bands and the eyes with some of it.
-Bumpy surfaces only exaggerate the fact that I do not draw straight lines very well…
-Seal your pumpkin with a few coats of acrylic spray to ensure the paint won't wash off in the event of rain.
What tips do you have for pumpkin painting?