CraftLife Episode 21 – Fair Share
The creative doldrums are inevitable at least a few times in the life of the creative person, and this time it struck in the form of… (insert dramatic music here)… podcast block! AGH!  Having missed you these past few weeks, I am glad to be back behind the mic for episode 21.
Sara and Kate from Our Best Bites host a fabulous food blog. Have you seen their April Fools Day cupcake ideas?! Oh yeah, and don't miss the Pie In Jar.
Thanks to Paula and Bronwyn from the Knitting Pipeline podcast for bringing the Pie in Jar to my attention.
Creative Commons offers an easy way for you to share your creative content on the web while still retaining your copyright. Sister Diane of the CraftyPod podcast shares her insight into Creative Commons in episode 115.
Who knew when I started knitting the Frederick & Anne Scarf by Kirsti Johanson that my mom would pick that exact same pattern for her gift knit? While mine is currently hibernating in all of its gray acrylic/nylon blend gloriousness, I am knitting Mom's in a much more luxurious and cream-colored Regia Silk 4-ply.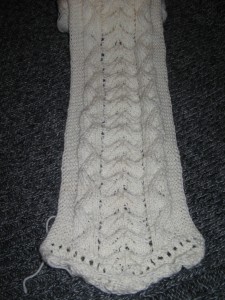 Check out the Fabric Postcards Swap thread in the Caithness Craft Collective Ravelry Group for pics of this round of fabric postcards. Get inspired, and maybe join in next time!
Cardboard, card stock, and glue is the name of the game in my new photographic adventure, In A Twist.