CraftLife Episode 27 – Eat Your Heart Out
And I'm back! Apologies for the big time gap since the last episode, but this one's a bit long to make up for it. It is officially September, and I am ready for all things Autumn. There is pumpkin butter already in my fridge, and I will likely once again attempt the almost impossible feat of finding somewhere in Texas to go apple-picking this year. I have a few Autumn scented tea lights scattered about the house, and am already mapping out a list of tasty treats to cook up. There will be Fall here in the CraftLife house, whether the weather outside cooperates or not.
But I digress. On to the podcast.

Give these new (to me) podcasts a try!
No more talking about knitting and the Olympics – how about knitting IN the Olympics! The Stuff you Missed in History Class episode from July 25, 2012 taught me that knitting has a past of being an Olympic competition. This article from the British Library goes into more detail.
The second podcaster hangout is officially scheduled for September 8 at 10am CST, 11am EST, and 4pm GMT. Check out this website to figure out what time that is where you live. Join me, Martine of iMake, Laura of Apocalyptic Diner, and Maria of Subway Knits over at the CraftLife You Tube channel, CraftLifeInMotion.
I'm loving my Mary Lee Taylor cookbooks! You can listen to a number of her radio shows here, and you can read about Mrs. Erma Perham Proetz's achievements on the
Advertizing Hall of Fame website.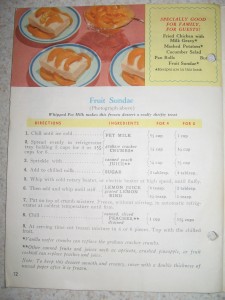 Inspired by Mary Lee Taylor's Fruit Sundae, I adapted the recipe a bit and came up with Peachy Iced "Cream". YUM!
If you're feeling adventurously Southern, try a loaf of Liver Pudding (the Counts Sausage Company in Prosperity, South Carolina, makes my Dad's fave), or a bowl of Pig Foot Stew.
Laura and I visited The Woolie Ewe for some yarn shopping and Souper Salad for some good eats along with her mom when she came down to Texas for a visit.
I bought some Patons Shetland Chunky Tweed in the color "Biscuit" to make Owls by Kate Davies, but I wound up using it for Mud Season by Elizabeth Smith.
"See" you on September 8th in the second Podcaster Hangout!