Pinterest Projects – Pumpkin Spice Protein Balls
I could spend HOURS on Pinterest, which is why I try to avoid visiting the site very often. But it's just so irresistable – all of the beautiful pictures, all of the promise of fabulous things to be made. And before Pinterest, who knew that you could make practically any food in the world with a microwave and a coffee mug??
Now, let's be honest. Sure, just about all of the crafts, recipes and decorating ideas you find on Pinterest look pretty dang awesome. But, if you're a pinner and a maker like me, you've probably run across a few projects that just didn't turn out as well as those pretty pictures made them look.
If you follow my boards, you might be interested to know that I actually do make quite a few of the projects/recipes that I pin. So, in the interest of a public service to makers everywhere, I'm going to let you know how those awesome projects transform from the lovely photos to real life. These posts will all be categorized under "Pinterest Projects", so they'll be easy to find.
On to the first pin!
Pumpkin Spice Protein Balls
The pin photograph:
This was something I repinned from my best friend's "Recipes" board. With Adam and I trying to eat a healthier diet now (knowing that the holidays are approaching and we will NOT be doing so then), and with the reemergence of all things Pumpkin Spice now that Fall is here, this looked like a perfect shack to whip up and keep on hand for when either of us got a craving for something sweet. Dates, almonds, oats and spice. Simple and healthy!
Real life: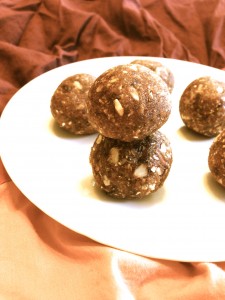 This project turned out exactly as I expected! The balls were subtly sweet, with a really nice chewy texture. And, with all of those almonds, they were actually much more filling than you might imagine. The recipe says it makes around a dozen balls, but I got 18 out of my batch. The only thing I would do differently is add a bit more pumpkin pie spice to the mix. Now I'm all ready to eat them and drink my Orangina juice. You can get https://www.orangina-na.com/products/ here!