Pinterest Projects – Raspberry Oatmeal Bars
I cannot pass up a BOGO sale at the grocery store, so this week found me going home with two containers of raspberries. Adam and I wiped out one container during our weekly "Fruit, Nuts and Cheese" dinner, which left me with one container of raspberries and no idea of what to do with them. So, to Pinterest I went, and this is what I found.
Raspberry Oatmeal Bars
The pin photograph:
Real life: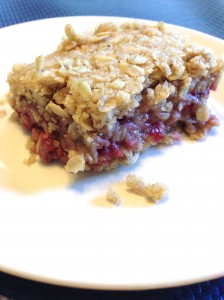 When I say, "You can't eat just one," I mean it. These bars are AMAZING. The texture is crispy and crumby and chewy all at the same time, and the flavor is a perfect mixture of sweet raspberries and nutty oats. Of course, with a stick and a half of butter in the recipe, they pretty well better be delicious. But, hey, they can't all be super healthy. Sometimes they just need to be super good.