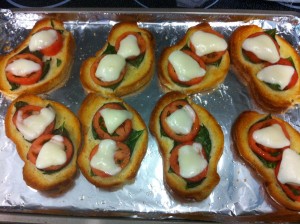 Italian Bread
Extra Virgin Olive Oil
Fresh Basil
Roma Tomatoes
Mozzarella
Garlic Salt (optional)
Black Pepper (optional)
Set broiler on Hi.
Slice Italian bread, and arrange slices on a baking sheet.
Brush slices with olive oil, and place under broiler until toasted. Remove from oven and flip slices.
Arrange basil leaves, tomato slices, and mozarella cheese pieces, in that order, atop the bread slices.
Brush olive oil around the exposed edges of the bread.
Sprinkle with a little garlic salt and cracked pepper.
Place under broiler until cheese is melted.
I have listed this recipe as an appetizer, but we like to enjoy it as a light supper with a side of fresh fruit. The extra olive oil on top of the bread keeps the edges from burning under the broiler while the cheese is melting, and adds a little more of that great olive oil flavor.
_______________________________________________________________________