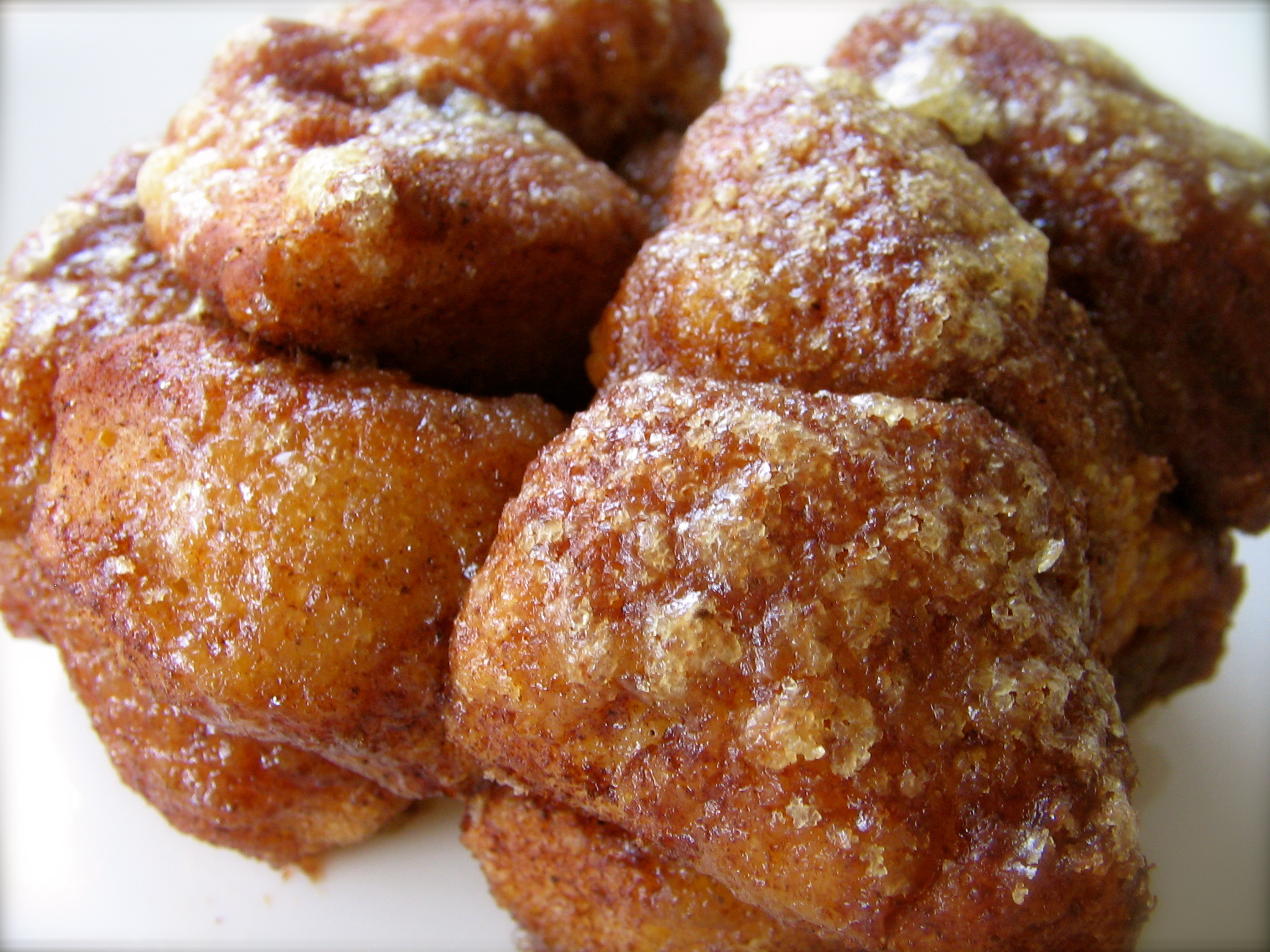 3 cans biscuits
1 cup sugar
3 Tbsp. cinnamon
1 cup light brown sugar
1 stick butter
Cut biscuits into quarters with scissors.
Shake biscuits quarters in a bag with sugar and cinnamon.
Layer cinnamon/sugar coated biscuit quarters in a greased tube pan and sprinkle chopped nuts, raisins, or both between layers if desired.
Bring butter and brown sugar to a boil, and let it boil for 1 minute
Pour butter and brown sugar mixture over the biscuits.
Bake at 325 degrees fahrenheit (163 celsius) for 35 minutes. Let it stand 10 minutes before removing from pan.
To serve, just pinch off a piece and eat with fingers.
(Recipe by Ophelia M. Leitzsey from the "Associate Reformed Presbyterian Church of Newberry, South Carolina" cookbook)
________________________________________________________________________
3 Tbsp Flax Meal
9 Tbsp water
1 c. canola oil
2 c. sugar
2 c. grated unpeeled zucchini (about one large)
3 tsp vanilla
1 1/2 c. white flour
1 1/2 c. wheat flour
1 tsp. salt
1 tsp. baking soda
1 tsp. baking powder
3 tsp. cinnamon
3/4 tsp. nutmeg
1/2 c. nuts, chopped
In a medium bowl, whisk together flax meal and water and set aside to let stand for at least 2 minutes.
In a large bowl, sift together dry ingredients.
Add nuts.
To the flax meal, add oil, sugar, zucchini, and vanilla.  Mix lightly, but well.
Add this mixture to the sifted ingredients, and mix until just blended.
Bake at 325 degrees fahrenheit (163 celsius) for 1 hour in 2 greased and floured loaf pans.
Personal notes:
*The original recipe just called for 3 cups of plain flour, so you can certainly use that if you don't have any whole wheat.
* I used walnuts because that's what I had on hand.  I'm a big fan of using whatever you have on hand!
*I think if I make this recipe again, I'll go for one loaf with a longer bake time.  These two loaves just seem a little short to me.
(This is a vegan adaptation based on the original recipe by Mrs. Frances Goethe from the "Associate Reformed Presbyterian Church of Newberry, South Carolina" cookbook)
________________________________________________________________________