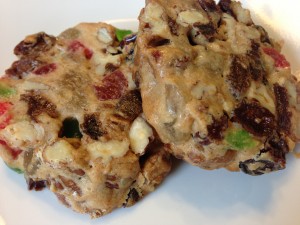 Batter:
1 c. softened butter
1 c. light brown sugar, firmly packed
3 large eggs
3 c. plain flour
1 tsp cinnamon
1/2 tsp baking soda
1/2 c. sherry wine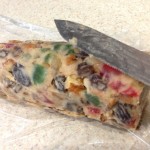 Fruit and Nuts:
7 c. copped pecans
1 lb candied pineapple, cut small
1lb candied red and green cherries, cut small
2 c. chopped dates (1 lb.)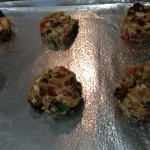 3/4 lb white raisins
In a very large bowl, mix batter as for any cookie.
Stir in the fruits and nuts.
Drop onto a well greased cookie sheet, or one lined with parchment paper.
Bake at 300 degrees fahrenheit (149 celsius) for about 25 minutes.
Makes 150-200 cookies.
Personal Notes:
*If pecans are not easy to come by, I think walnuts would be a great substitution.
*This dough can be made ahead of time and either refrigerated or frozen until ready to bake.
*For frozen dough: To freeze dough, roll a portion into a long cylindrical shape, wrap in wax paper first, then plastic wrap, and freeze.  To cook, remove the roll from the freezer, unwrap, cut into 1/2 in thick slices and lay on cookie sheet.  Frozen dough may require up to 10 min more baking time.
_______________________________________________________________________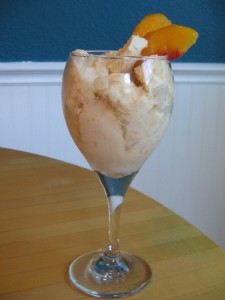 2/3 cup evaporated milk
3 Tbsp sugar
Juice and Grated Peel of 1 lemon
1 Peach
Pour evaporated milk into a medium sized bowl, and chill in freezer until ice crystals form around the edge.
Peel, pit, and puree peach.
Remove bowl from freezer and, using chilled beaters, beat milk until it has more than doubled in size.
Beat in sugar, lemon juice, lemon peel, and peach puree.
Pour into a shallow dish and return mixture to freezer. Freeze until firm.
_______________________________________________________________________
Snow
Milk or Cream
Sugar
Vanilla Extract
Place bowl outside to catch falling snow.
Add milk or cream to snow until snow is creamy but not too slushy.
Add a teaspoon or two of vanilla.
Add sugar to taste.
Enjoy!